Proud to be a Green Printer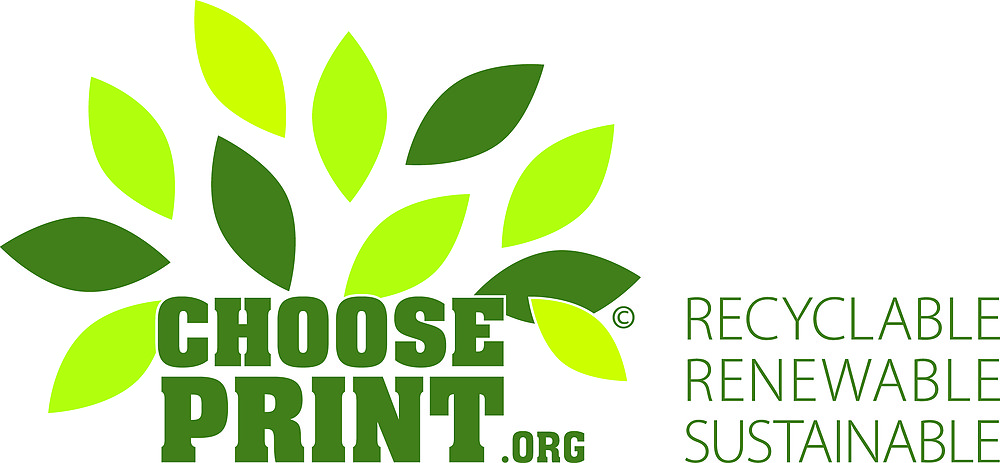 Paper is the most sustainable form of physical advertising.
It is recyclable and is made from a natural resource that is renewable. These features, combined with the U.S. paper industry's advocacy of responsible forestry practices and certification, use of renewable, carbon-neutral biofuels and advances in efficient papermaking technology, make paper one of the most sustainable products on earth.
Print Uses "Waste"
One-third of the fiber used to make paper comes from wood chips and sawmill scraps; another third comes from recycled paper. Overall, in the United States nearly 80% of the over 400 paper mills use recovered fiber to make some or all of their paper products, and of these, approximately 115 mills use recovered paper exclusively.
Print is Recycled
But that is not the complete story. Print on paper is recycled and reused. In 2010, for example 63.4% of all paper used in the United States was recycled, and this number increases each year with more deliberate curbside and drop-off collection systems. Recycled paper is used to make everything from construction products to consumer goods.
Tru Art Color Graphics has received the distinction as a Forest Stewardship Council (FSC®) certified printer.
What does it mean to be FSC certified, and why is it important?
The Forest Stewardship Council is an independent, non-governmental, not-for-profit organization created to promote responsible management of the world's forests. The FSC label ensures that the paper stock used is from responsibly harvested and verified sources. Tru Art is audited each year to ensure compliance.
Being FSC certified allows us—and our clients—to demonstrate our commitment to responsible forest management. It shows that we comply with the highest social and environmental standards on the market.
Certification to the FSC's standards for responsible forestry, as represented by the SCS Kingfisher, is a visual expression of our proven commitment to environmental protection and responsible resource management.
Learn More: